Jack Lynch Returns!
Steven Womack's earliest novels–The Jack Lynch New Orleans Trilogy–have returned to print after a long absence.
Set in New Orleans, Womack's  first published novel, the New York Times Notable Book Murphy's Fault, featured his series protagonist Jack Lynch. A former investigative reporter, Lynch goes over to the dark side in this series debut and becomes a public relations executive (read: flack) for the First Interstate Bank of Louisiana. Owned by a corrupt, politically connected oilman who built a fortune and an empire out of the steamy Louisiana swamps, that empire is being threatened by one of Jack's boss's most trusted confidantes–the corrupt, corpulent Civil Sheriff Murphy.
Shattered illusions lead to murder and revenge in this tale of politics and corruption from an Edgar and Shamus Award-winning author. See why the New York Times called Murphy's Fault "tough and articulate…" and Publisher's Weekly praised it as a "vigorous and well-written addition to the genre…"
In the sequel to Murphy's Fault, Smash Cut:, Jack's caught in a spicy Cajun-flavored smashup as Louisiana corruption and politics collide headlong with the world of indie filmmaking. When shock/schlockmeister Korean cult film director Andrew Kwang wants to buy an abandoned nuclear power plant and turn it into the world's largest underwater soundstage, all hell breaks loose.
Inspired by the real-life story of the abandoned Cherokee Nuclear Power Plant in Gaffney, South Carolina—that director James Cameron turned into an underwater soundstage for his 1987 film, The Abyss— Smash Cut: is a gripping, page-turning tale of corruption, power, shattered illusions, lost dreams, and betrayal.
In the final installment of the Jack Lynch New Orleans Trilogy, The Software Bomb, Jack doggedly goes after a cyber-hijacker. A hacker has planted a software bomb deep in the cyber bowels of the First Interstate Bank of Louisiana. It's modems and murder as Jack Lynch sets out in his own dogged way to untangle this cyber-mess of a public relations disaster.
The Jack Lynch New Orleans Trilogy has been republished in exclusive eBook editions by Spearhead Press. For more information and to order your own copy, hit the button above labeled "Steven's Books."
Harry's Back!
The Edgar and Shamus Award-Winning Music City Murders Series Returns
After nearly two decades, the MUSIC CITY MURDERS series featuring Nashville PI Harry James Denton is returning to the mystery scene with the publication of FADE UP FROM BLACK: The Return of Harry James Denton.
This seventh installment of the Harry James Denton series brings Harry forward fifteen years, to a time when he's left the private investigating behind. His life has changed completely. He's about to become a single parent to his teenaged daughter.
His whole life as a private detective is ancient history… That is, until Leo Walsh walks into his office and asks him to solve a murder.
"Whose murder?" Harry asks.
"Mine," Walsh answers.
And we're off and running…
"Womack is right up there with Parker, Jance, and Grafton. He writes a fast-moving, humorous, well-plotted detective story. No psychology like Rendell, no agenda like Cornwell. His Nashville hero, Harry Denton, is colorful and likeable, and although he has little money and lives on the edge, he has the charisma of Parker's Spenser and Jance's Beaumont. I highly recommend all of the Denton series. I've read every one, and haven't been disappointed yet." —Joan Benny, Amazon Reviewer
FADE UP FROM BLACK: The Return of Harry James Denton is available online or can be ordered from any brick-and-mortar bookstore. So support your local indie bookshop!
Welcome to StevenWomack.com!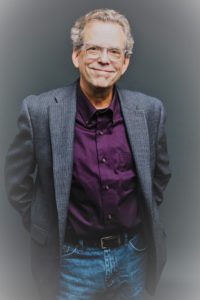 Thanks for visiting my website. If you're not familiar with my work, this is a good place to start.
If you go to the web pages for each of my books, you won't find a catalog description or a cut-and-paste from the Amazon.com page. I've tried to do something different here, which is tell the story behind the story…
Backstory Galore…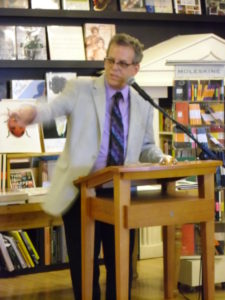 What you'll find instead are my own notes and backstory on where each book came from. Every novel is a story, but every novel has its own story as well. And that's what I'd like to do here: give you some idea of where each book came from and how it came to be…
Of course, there will still be the occasional obligatory fun self-promotion fluff piece, like pictures of me signing and speaking at Parnassus Books…
Take a look at my Facebook page. I find a lot of really interesting stuff that I like to share:

And for an even bigger thrill: