Cast of Characters
Edited by Lou Aronica
Fiction Studio Books
2012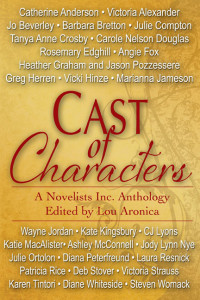 Cast of Characters is the first anthology of short fiction by members of Novelists, Inc., which is an organization of multi-published genre fiction authors. I've been a member of NINC (as it's known among its members) since the early 90s and served a year as President. It's the single most dynamic and useful writers organization out there. And unlike a lot of other "writers" organizations, you actually have to have published two novels to join. It's not an organization for fans and aspiring writers. You can learn more about NINC by clicking here.
Former NINC President, founder of Fiction Studio Books and The Story Plant, and all-round amazing editor/author Lou Aronica came up with the idea of gathering a group of NINC members and publishing the anthology. I was, as always, incredibly flattered to be asked to contribute and decided to offer up a short story I'd written a few years earlier that was different from anything I'd ever done before.
Goldfarb's Red Scarf is the story of Nathan Goldfarb, a lonely nerd at a competitive, snooty all-boys school. Nathan runs cross-country, only he's terrible at it, and the other boys make him miserable until something breaks loose inside of him and he becomes, for a brief moment, a winner.
Goldfarb's Red Scarf is unlike anything I've ever written. It's not a mystery; in fact, it's almost more literary than anything else. Lou paid me one of the nicest compliments I've ever had when he compared it to something John Updike might have written.
It's so out of character for me, that I've decided to make the story available to anyone who wants to read it. Just click below to read the story of Nathan Goldfarb:
You can also find a copy of Cast of Characters at Amazon.com or Barnes & Noble:
Or go back to the Home Page!