Murder Manual/A Manual Of Murder
Copyright ©1998 Steven Womack
Ballantine Books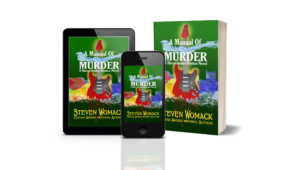 In all the years that I worked with Joe Blades at Ballantine Books–which stretched from before the publication of Dead Folks' Blues in 1992 until the final installment, Dirty Money, in 2000–I can only remember having one serious editorial disagreement with him, and it was over Murder Manual.
By the time this fifth Harry James Denton book came out, I had set a novel in the confines of Vanderbilt Hospital, in East Nashville during the arson outbreak, in the country music business, and in Nashville's world of strip clubs and adult entertainment.
"Read the book. You'll enjoy it. Edgar winner Steven Womack spins a captivating story."
–The Knoxville News-Sentinel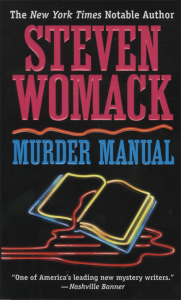 I decided to set the fifth book in, of all things, the publishing business.
So before you get all sweaty and excited (ooohhh, a murder mystery set in the world of publishing!), let me give you a little context.
Despite Nashville's reputation as Music City, U.S.A. (which it is), the insurance business, health care, and publishing are all as big–or bigger–industries than music. Nashville has historically been a center for printing and publishing. My father worked in the printing business for almost 45 years and I've had a number of relatives and friends who did everything from sell printing to publish books to set type.
I even moved back to Nashville to work for a publisher.
I also knew several people who had started independent presses in Nashville. One of the most successful was a company that back in 1991 published a little volume called Life's Little Instruction Book.
This book was a collection of homespun aphorisms and nuggets of wisdom that supposedly made life a little easier to navigate. It was an oddly formatted book and had a plaid cover. I'd put a link here to it, but nah… Don't think so.
Anyway, it was a runaway success. It hit the best-seller lists, including The Big One, and within a few years a lot of people had made a lot of money and you could buy LLIB calendars, mouse pads, coffee mugs… hell, I don't what all.
So fast forward a couple of years and I'm at the Kentucky Book Fair in Frankfort, Kentucky slinging my own books in a gymnasium full of authors signing at dozens of tables. As always, I'm not exactly pulling in crowds like the Stones at MSG, so during a break, I got up and went to the hospitality suite and grabbed a paper cup full of coffee.
In walks the famous, NYT Best-Selling author of Life's Little Instruction Book…
One of my buddies introduces me to him–we're both from Nashville, after all–and we strike up a conversation. I tend to talk with my hands and in the course of our conversation, I accidentally knocked over my little cup of coffee and made a brown puddle on the table.
So this guy starts, I mean, ragging me about this. He made a big deal out of it, got a good laugh out of it along with everybody else, and embarrassed the hell out of me.
More importantly, he really pissed me off…
I let it stew around for a couple more years, then I decided to kill him.
And that's the plot of Murder Manual.
Harry gets involved in the murder of a famous, NYT Best-Selling author who manages to make an enemy of just about everyone he meets. And for good measure, one of the supporting characters was based on/inspired by the real-life editor of the aforementioned success.
So what was the editorial debate with Joe Blades?
I wanted the title of this fifth Harry James Denton to be Life's Little Murder Manual and I told Joe and the marketing folks at Ballantine that if they had even half a brain in their head, they'd publish it in the same novelty format with a plaid cover that was a blatant, in-your-face ripoff of Life's Little Instruction Book.
Obviously, they disagreed.
No hard feelings, though. Murder Manual was, by far, the most successful–at least critically–of the six Harry James Denton novels. When it was published in 1998, it was nominated for The Edgar, The Anthony, and The Shamus Awards, winning The Shamus.
And it gave me the chance to write what I think was one of the most philosophical opening paragraph leads I've ever written and one that most truthfully and authentically reflects my own view of life:
I've never bought into Nietzsche's notion about what doesn't kill you making you stronger. My experience has been what doesn't kill you nearly kills you, beats the crap out of you, and leaves you bleeding by the side of the road.
It was a fun book to write. When it came out, somebody walked up to me and said the murder victim in Murder Manual was so clearly based on the real life author of Life's Little Instruction Book and wasn't I afraid of getting sued?
"Hell," I answered. "You can't buy that kind of publicity. Bring it on…"
Sadly, no one ever even had the common decency to sue me and give me all that free promotion.
As for the title, after further consideration (as they say), I decided to change the title again, so the Spearhead Press Ebook edition of Murder Manual has been reissued as A Manual of Murder.
The Harry James Denton novels are available from all major Ebook distributors, and the series has its own page on Amazon. Here's it is: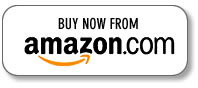 Or go back to the Home Page!