Murphy's Fault
Original publication Copyright ©1990
St. Martin's Press
Spearhead Press Edition Copyright ©2023
Murphy's Fault was my first published novel and it featured Jack Lynch, a cynical, disillusioned newspaperman in New Orleans who goes to work for a corrupt financier/banker who's a player in New Orleans politics.
I wrote the it when I was very young. I can't remember exactly when I started the book; it was either right before or right after I graduated from Tulane University in 1974. When I graduated from college, my bright shiny honors English diploma in hand, I was determined to become a newspaperman and was shocked to find there were no decent jobs available anywhere. This was the mid-70s and we were in the middle of a pretty nasty recession.
So I took a minimum wage job in retail, working at a bookstore in the uptown area of New Orleans near the Tulane campus. It wasn't much of a job, but truth is minimum wage jobs back then weren't like minimum wage jobs now–you could actually live on a minimum wage job. I didn't have a car; you didn't need one. There were no ancillary bills like cable, internet and cell phone back then. My rent was about a hundred bucks a month and I managed to pay my bills and have a little left over to enjoy myself.
But I still wanted that newspaper job. Back then, there were actually three daily newspapers in New Orleans (now there are none) and I finally got hired by the smallest and worst of the three: The New Orleans Daily Record.
The Daily Record paid its bills primarily by publishing notices on bankruptcies, foreclosures, estates, etc. In other words, if the law required a public notice and you wanted to put your notice where no one would ever see it, The Daily Record was the place to go.
The paper was owned by a fellow named Louis Roussel, Jr., who also owned a bank and an oil company and some race horses and heaven knew what else. Legend had it that Louis had made his fortune back during the Depression when the oil companies were buying up lease options down in the bayou and Louis–being of Cajun descent–was hired as a translator and go-between. This, of course, gave him the inside track on which options the oil companies wanted, so he went in and bought them up himself.
I have no idea if any of this was true, but it made a hell of a story.
I remember Louis Roussel as being loud and boisterous, rough around the edges, and larger than life. He was a real player in Louisiana politics as well. He was an early supporter of the wonderfully flamboyant Edwin Edwards (whom I met one Friday night in New Orleans at an event I'd been assigned to cover), He bought The Daily Record because he was continually pissed off at what was written about him in the Times-Picayune and the States-Item, the two major dailies in New Orleans.
So I went to work for Mr. Roussel's newspaper, which only had about three reporters (and a Sports editor known as Hot Line Harry, who ran a bookie operation out of the Sports department). The newspaper was so small, and the turnover so bad, that within six months, I was named City Editor: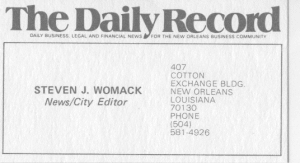 I started this novel about a guy who becomes a political "spinmeister" for his corrupt boss who's a powerful player in New Orleans politics.
And I make no bones about two things: First, I drew on many stories I'd heard or experienced in New Orleans. Being a newspaper reporter in New Orleans was a literal gold mine for writers. So there's a sort-of autobiographical component to this book.
Second, I also make no bones about being influenced by Robert Penn Warren, especially his Pulitizer Prize-winning novel, All The Kings Men. I've said many times over the years that this is the book that made me want to become a writer, and it's the book that's haunted me for almost fifty years.
"Man is conceived in sin and born in corruption, and he passeth from the stink of the didie to the stench of the shroud…"
–Willie Stark
So I walked into my office one day and told my boss I was quitting. I wanted to finish my novel and this pesky day job was getting in the way.
My boss, Walt Bouche, was a great guy and we got along fabulously. He said "Tell ya' what… Why don't I lay you off so you can collect unemployment?"
I took the deal and wrote the rest of Murphy's Fault courtesy of the Louisiana Department of Employment Security, who paid me–if memory serves me–$75.00 a week.
It took twelve years after that for Murphy's Fault to find a home. It was a long, rocky road, and has been ever since. But that's a story for another time…
When the book was finally published, it became the only first mystery that year named to the New York Times Notable Book list. It was a great feeling, and opened a lot of doors for me. I've been trying to walk though some of them ever since.
Murphy's Fault has been long out-of-print. I actually have the  rights back and will be republishing it under my Spearhead Press imprint just as soon as I can.
Meantime, there are still a few copies out there. On Amazon.com, there used to be a lot of really great reviews on the book, but when it went out of print and only became available through the used market, I think they all got flushed. There are a couple of mediocre ones up now, but you can still find the book there: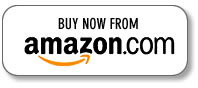 Or go back to the Home Page!