Torch Town Boogie
Copyright ©1993 Steven Womack
Ballantine Books
Spearhead Press Edition
Copyright ©2018 Steven Womack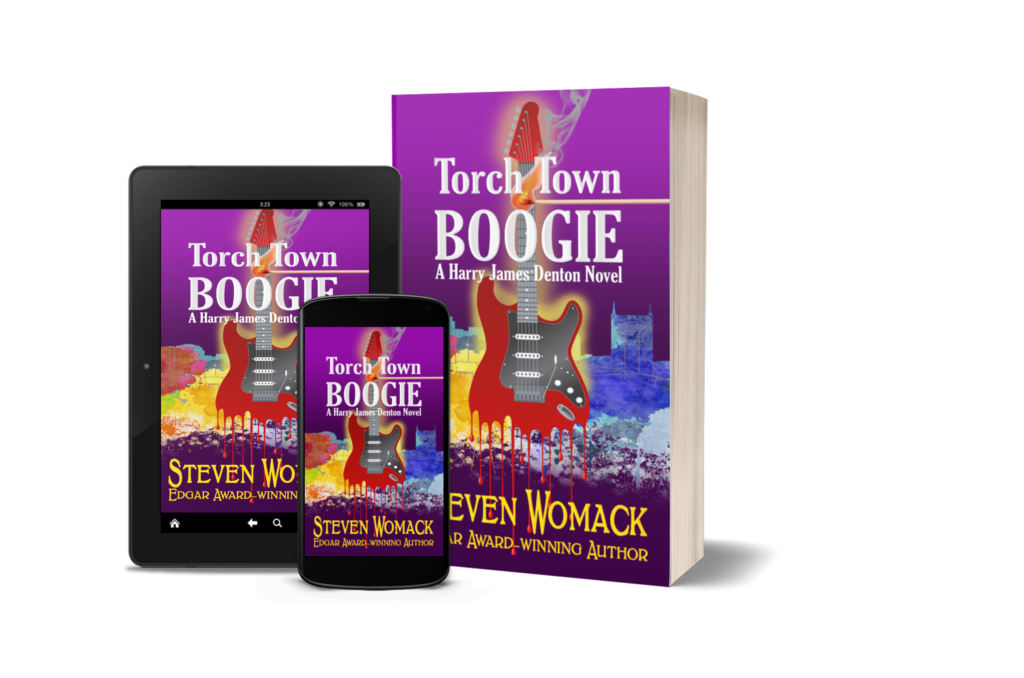 Torch Town Boogie was the second installment in the Harry James Denton series and was, in many ways, one of the most fun to write. I'm not sure the book's ever gotten the credit it deserved, but a lot of sophomore sequels don't.
The book was inspired by a series of real life events that took place in East Nashville back in the early 90s. That was an interesting time for that part of Music City. East Nashville, which had been one of the most upscale and expensive parts of the city back a hundred years ago, had gone through several decades of gradual economic deterioration. Many parts of East Nashville were plagued by crime, poverty, and a decrease in home values. There were still parts that were working class/blue collar and even some more expensive suburbs, but overall the area had been in decline for years.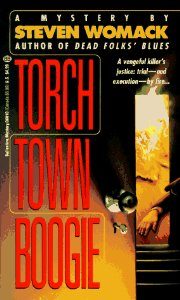 But you could get a cheap house there!
"A sure winner… Many critics have lauded Womack's sense of setting. In Torch Town Boogie, his rendering of Nashville is almost palpable."
–The Tennessean
I lived in East Nashville for about four years back in the 90s when younger working people, artists and musicians, LGBTs, and out-of-towners moving to Nashville realized what incredible bargains could be found there. You could still get a pretty nice house for around $50,000, or even less if you were resourceful. Old houses were being snapped up and gentrified fast.
Which, of course, caused a lot of resentment among some quarters…
Somebody took resentment a little too far. A whole series of arson incidents took place during the early 90s, especially in neighborhoods that were being gentrified, and even more especially, where the houses were being gentrified by gays and lesbians.
This was big news for awhile, and I based the plot of Torch Town Boogie on these real life events. The book opens with Harry being awakened by the sounds of sirens and light dancing on his window shades from the house that had been torched down the street:
It was a magnificent fire, a marvelous fire, the kind of fire whose brilliance penetrated even closed window shades and eyelids. I'd been asleep barely an hour…
And it goes on from there.
I had tremendous fun doing the research, including interviewing John Odom, a chemist and arson expert who taught me the finer points of arson, arson investigation and how to make ANTI…
ANTI? That's some really nasty stuff that you can make in your own kitchen. You'll have to read the book to find out how…
As for the arsonist, I don't really know what happened. One police detective later told me that some ignernt redneck moron tried to toss a Molotov cocktail through the plate glass front of a gay bar in Five Points, only the bar owner had replaced the plate glass with Plexiglass. The flaming cocktail bounced off the window and back on the thrower, who was badly burned and carted off to the hospital. No charges were filed and the fires mysteriously stopped.
And East Nashville?
It's now the trendiest and among the most expensive places to live in all of Nashville. Nobody can afford it anymore…
Torch Town Boogie has been reissued in a new EBook edtion by Spearhead Press. The Harry James Denton novels are available from all major Ebook distributors, and the series has its own page on Amazon. Here's it is: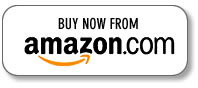 As they say in the fire business, get it while it's hot!