Or, I've got your minimum daily adult requirement of weirdness right here…
Three years ago, as I've written in this blog before, Wayne McDaniel and I formed a partnership to write the novel Resurrection Bay. We've been completely upfront about the fact that the novel is based on and inspired by the life and crimes of Robert Hansen, Alaska's most famous serial killer. Hansen confessed to killing 17 women and raping at least 30 over a 12-year-period.
During the three years that Wayne and I worked on Resurrection Bay, we worked entirely by email and phone. We never met each other, never Skyped.
Didn't even know what each other looked like…
Finally, last Thursday, August 22nd, Wayne and I finally got to meet face-to-face when he came to Nashville for the KillerNashvillle mystery conference.
That afternoon, Robert Hansen died…
http://www.nytimes.com/2014/08/23/us/robert-hansen-alaska-serial-killer-dies-at-75.html?ref=obituaries&_r=0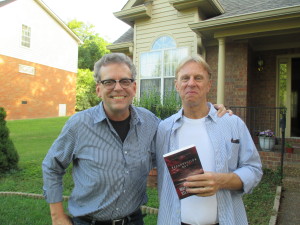 With Wayne McDaniel and RESURRECTION BAY