Why Wealth Inequality Sucks With Just A Few Modest Proposals That Might Make It All Suck A Little Less…
I'm hard at work on the second of a planned eight broadsides on the main issues facing Americans. The first, Why Politics Sucks, was published on July 4th and went all the way to #14 in its category on Amazon.
I anticipate needing another couple of weeks, perhaps a little longer, to get the next one ready for publication. Meanwhile, the cover has come in and I thought I'd share it with you…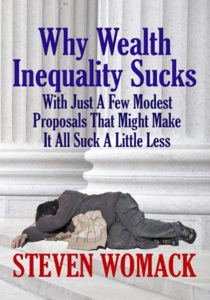 Hope you like it!