Why Politics Sucks With Just A Few Modest Proposals That Might Make It All Suck A Little Less
…has been published by Spearhead Press on July 4, 2016. The book is available on all major Ebook retail sites.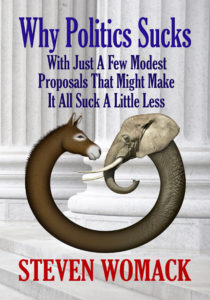 The day after publication, it landed at the #14 spot on Amazon.com's Kindle Short Reads–Politics and Social Commentary list! Thanks to all for your support and encouragment!
For more info, click here.